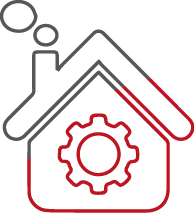 Avon Ruby provide many services within the Building industry both to the Domestic and Commercial sector.
One in particular is property maintenance, where quality and expertise is essential. You can feel assured that when you appoint one of our operatives or teams that they are qualified and confident in undertaking works that you require
Please see below a list of typical services we offer:
Landlords & Home owners Gas Safety Certificates | Boiler services and Breakdowns | Pat Testing | Electrical Certificates | Painting | Decorating | Plumbing | Heating | Roofing | Carpentry | Flooring | Smoke alarms | Switch Repairs/Installation | Plumbing Leaks | Blockages and drainage

If you would like more information on our services or the process involved in insurance work for a claim, please contact us today. You can do so either by calling us on 0208 575 1336 or completing the "contact us" form below.
Testimonials
"
Plumbing and sorted out flood in cellar – Chiswick, W4
They are always there when you need them, tidy & professional , very reliable and friendly too, we were very happy to have them in our property - would definitely recommend.
"
"
Have used them for years – Ealing, W13
They are very good at keeping appointments; the quotes are very clear and itemised. they take great care with everything - I have used them for years and will continue to do so.
"
"
Various works completed – Ealing, W13
Avon Ruby have a brilliant team of heating engineers. I have used them for the past 25 years. I have always had magnificent service from them. They are reliable, honest, helpful, courteous and punctual. I also use them for everything else in the home. They have fitted a new kitchen for me, a new shower room, painted the interior and exterior of my flat and done electrical repairs. All this has been to a very high standard indeed.
"
"
Fitted part onto a central heating boiler – W5
This company were able to fit a part to a boiler when two other companies had refused to even try, due to the boiler being in an awkward position with difficult access. I was very impressed and delighted that the job was able to be carried out. I will definitely use them again.
"